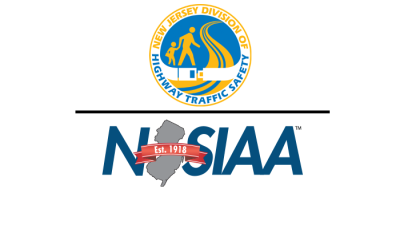 NJSIAA, NJ Division of Highway Traffic Safety again teaming on "Be a Winner Behind the Wheel" campaign
Messaging benefits first-time, teen drivers
For the second consecutive year, the NJSIAA (New Jersey State Interscholastic Athletic Association) is partnering with the New Jersey Division of Highway Traffic Safety on the "Be a Winner Behind the Wheel" campaign. This co-branded platform provides safe driving messaging to teens, their families, and at-large communities.
Details on the program, which debuted in 2021, are communicated during NJSIAA championship sporting events through traditional media as well as interactive promotions. Content also is shared through social media channels, as well as print and digital newsletters.
"By all accounts, the 'Be a Winner Behind the Wheel' campaign was extremely well received in its inaugural year," notes Colleen Maguire, NJSIAA's Executive Director. "So, given what's at stake, we're delighted to bring it back for 2022. We're again leveraging our association's access to student-athletes in an effort to share information we believe can save lives."
As identified by the Division of Highway Traffic Safety, there are five key areas of focus for keeping new drivers safe on New Jersey's roadways. These – which are to be emphasized in "Be a Winner Behind the Wheel" – are the following:
Prevention of impaired driving

The components of the state's Graduated Driver License, via the "

Stick to It

" campaign

Dangers of speeding

Risk of distracted driving, via the related "

Take Control of Your Destiny

" campaign

Seat belt awareness
The need to share this information with young drivers is highlighted by motor vehicle crashes being the leading cause of death for 15- to 18-years-olds in the United States. During 2019 (the most recent year for which statistics are available), 2,042 people in the U.S. were killed in traffic accidents involving a teen driver. Of these, 628 of the fatalities were the teen driver.