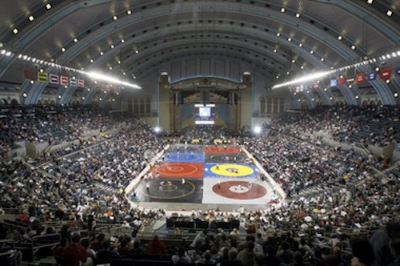 All-session tickets will go on sale beginning at noon on Friday, January 7th for the NJSIAA/Rothman Orthopaedics Wrestling Championships, which will again be held at Jim Whelan Boardwalk Hall in Atlantic City. 
Competition will run from Thursday, March 3, starting at 2pm through Saturday, March 5. 
All-session tickets are priced at $40 and will go on sale through Ticketmaster.com, the Boardwalk Hall Box Office, or by phone (609.348.7512) beginning at noon on January 7th.  
Single-session reserved tickets are $10 and will go on sale at noon on Monday, January 31.
Group sales for all-session tickets will be available for orders consisting of a minimum of 10 tickets and maximum of 50 tickets per order. Requested seating is not guaranteed. A $4 service charge per ticket will be added to group sales purchases. Group tickets can be purchased by calling 609-348-7023 or by emailing Lauren.Obaza@SpectraXP.com. 
Senior citizens (65 or older), children (2-12) and students with a valid grade school or high school ID are eligible for a $2 ticket beginning on Thursday, March 3. These will be available through the weekend of the event. These discounts are available only at the Boardwalk Hall Box Office with a valid ID. 
The wrestling in Atlantic City is the culmination of an event that began with district competition leading into the region tournaments over the prior two weeks
Both Jim Whelan Boardwalk Hall and the Atlantic City Convention Center are owned and funded by the New Jersey Casino Reinvestment Development Authority (CRDA). Spectra provides both Venue Management and Food Services & Hospitality to both Jim Whelan Boardwalk Hall and the Atlantic City Convention Center.
About Spectra 
Spectra is an industry leader in hosting and entertainment, partnering with clients to create memorable experiences for millions of visitors every year. Spectra's unmatched blend of integrated services delivers incremental value for clients through several primary areas of expertise: Venue Management, Food Services & Hospitality, and Partnerships. Learn more at SpectraExoeriences.com. 
About the Casino Reinvestment Development Authority
The only agency of its kind nationwide, the CRDA has used Atlantic City casino reinvestments as a catalyst for meaningful, positive improvement in the lives of New Jersey residents since 1984. Under the 2011 Tourism District Act, the Authority's mission evolved from statewide projects to becoming the state's key economic development agency for Atlantic City. CRDA's expanded responsibilities now include land use regulation, tourism marketing and clean and safe initiatives. The CRDA also oversees Historic Boardwalk Hall (the leading entertainment venue of its size in the country) and the Atlantic City Convention Center. In total, CRDA has invested nearly $2 billion in more than 400 projects statewide, of which $1.8 billion has been invested in Atlantic City, spurring business investments and expansions, and creating permanent jobs in the process. For more information about CRDA   and our projects, visit http://www.ncrda.com. Follow us on Facebook at //Facebook.com/njcrda, and Twitter at www.twitter.com/njcrda.
For destination photos and videos media may visit www.donaltanticcity.com/mediaonline where dozens of assets are available for download.  For complete Atlantic City tourism information, visit www.doatlanticcity.com.  Also follow us on Facebook at www.facebook.com/DoAtlanticCity and on twitter at www.twitter.com/VisitAC, #DOAC, and Do AC Instagram at Instagram/com/doac.