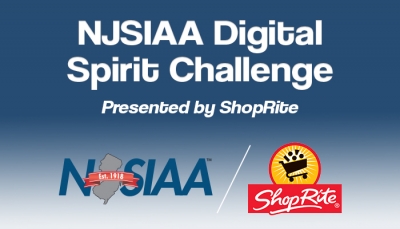 UPDATED: 6/10/2021
NJSIAA Spirit Challenge, presented by ShopRite, winners announced
The votes are in and the winners in the first-ever NJSIAA Spirit Challenge, presented by ShopRite have been crowned.  Thanks to the support of your students, parents, and communities, the following schools can claim the designation of Most School Spirit and will be receiving prizes from ShopRite, a proud partner of the NJSIAA:
Non-Public Group A: Holy Angels
Non-Public Group B: Gill St. Bernard's
Group 1: Gloucester City
Group 2: McNair Academic
Group 3: Nottingham
Group 4: Cherokee
Congratulations!
NJSIAA, to foster school spirit throughout the state, is partnering with ShopRite on a new, digital way for association member schools to engage in head-to-head competition.
Starting April 29, students, fans, alumni, and community members across New Jersey will have the chance to support their teams via social media in the NJSIAA Digital Spirit Challenge, presented by ShopRite.
"ShopRite is committed to the students and member schools of the NJSIAA and proud to support the Spirit Challenge," said Robert Zuehlke, Manager of Corporate Social Responsibility for ShopRite. "In this unique year, we are excited for an opportunity to help schools engage their communities and show their school pride."
The social media event will be hosted on the NJSIAA Twitter account (@NJSIAA) and results in six winners; one per group classification. The first round will be conducted via poll format to determine the top 16 schools in each group. Those schools will then be placed in digital, bracket-style tournaments, to determine head-to-head matchups. Each matchup will be conducted via Twitter poll, with the school getting more votes advancing to the next round. Early-round matchups will feature two days of voting, but in the later rounds, each matchup will last just one day.
"COVID-19 has already affected many parts of our lives," said NJSIAA Chief Operating Officer Colleen Maguire. "We all miss the excitement of an in-person competition, but this challenge is a great way for student-athletes, coaches, teachers, and community members to showcase their school spirit without compromising the health and safety of others."
The opening-round polls will be released on April 29th and be active through May 5th. Subsequent round matchups for each state Group Classification will all be assigned a specific day of the week.
Contest schedule, rules, and Group Classifications can all be found below.. We encourage everyone to participate in each round, as there will be multiple matchups to be decided.
Click Here for ShopRite Spirit Challenge - Voting Round Schedule
Click Here For Full Information on Rules
Click Here for the Official NJSIAA Twitter Channel
Not sure which Group Classification Your School Falls Under?  Click Here