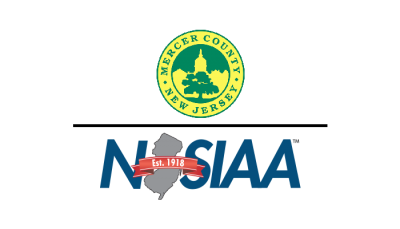 ROBBINSVILLE, NJ (April 28, 2021) ─ The NJSIAA has entered into a sponsorship agreement with Mercer County, in which the association is headquartered. Under this agreement, Mercer County will support all NJSIAA student-athletes during multiple championship events, and partner with NJSIAA to promote unique, Mercer County destinations via event signage, ads, and social media. 
"Mercer County is proud to support New Jersey's student-athletes and invites those visiting for championship events to explore all that our county has to offer," said Mercer County Executive Brian M. Hughes.  
"It's wonderful having our home county as a sponsor," says NJSIAA Chief Operating Officer Colleen Maguire. "This agreement will make multiple scholastic athletic events possible, while also providing the fans who attend championship competitions within Mercer County with useful information on the surrounding area."
About Mercer County
As New Jersey's capital county, Mercer County is a center for commerce and culture in the Garden State. Located midway between New York City and Philadelphia in New Jersey's center, Mercer County's 12 municipalities are home to more than 367,000 people in 226 square miles in the heart of region with 10% of the US population all within a 75-mile radius. The transportation infrastructure in Mercer County is also excellent. Key corridors along the New Jersey Turnpike in Mercer County are considered the most lucrative commerce centers in the state. In addition, Interstates 95, 195 and 295, as well as state highways routes 1, 29, 31 and 130 make Mercer County more attractive. Mercer County also offers access to commuter rail services, a light rail system and the Trenton-Mercer Airport. With a highly skilled and educated labor pool we're also home to Princeton University, Rider University, The College of New Jersey, Thomas Edison State College and Mercer County Community College. The county holds some of the state's greatest cultural and historic sites with Revolutionary War battle sites in Trenton and Princeton. Recreation and entertainment are abundant with first-class parks, four public golf courses, and the Trenton Thunder at Arm & Hammer Park. CURE Insurance Arena is ranked among the best performing venues of its size in the world. Mercer County's excellent schools, tourist destinations, and diverse, well educated workforce make our county a great place to live, work and play. 
About the NJSIAA                                                                                                                                          
Established in 1918, the New Jersey State Interscholastic Athletic Association (NJSIAA) is a voluntary, non-profit organization comprised of 436 accredited public and non-public high schools. A member of the National Federation of State High School Associations, the NJSIAA conducts tournaments and crowns champions in 33 sports. Championship competition for girls is sponsored in basketball, bowling, cross country, fencing, field hockey, golf, gymnastics, lacrosse, soccer, softball, swimming, tennis, outdoor track, winter track, volleyball, and wrestling. Boys' championships are determined in baseball, basketball, bowling, cross country, fencing, football, golf, ice hockey, lacrosse, soccer, swimming, tennis, outdoor track, winter track, volleyball, and wrestling.